Valparaiso High School's official school colors are white and kelly green.  And these are the colors that the area's outdoors offers with the change of seasons. 
Located at the southern shore of Lake Michigan, the Greater Valpo area is affected by the flow of moisture off the lake, especially during wind events from the north.  In the wintertime, before Lake Michigan freezes, winds from the north pick up moisture and spread it across the area, sometimes in the form of heavy snow bands.  While these bands hit a narrow path, they sometimes drop large amounts of snow, creating a winter wonderland.  Winter sports, made famous by the South Shore Railroad poster featuring a lady skier on the Dunes, are plentiful.  From snowmobiling to sledding to ice skating and cross country skiing, winter activities are plentiful when the snow piles up.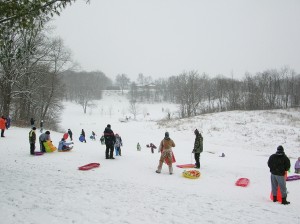 As the snow melts, the moisture supplies the ground with moisture for the coming spring, which helps turn Northwest Indiana into an emerald oasis, with lush, green hardwood forests and fertile farmland.  An area with many inland lakes, fishing opportunities are good.  Bass, bluegill, sunfish, crappie, catfish and perch are frequently found in local waters.  The Great Lakes also hold larger sportfish like trout.  
As the waters warm into the summertime, local residents and visitors enjoy boating, sailing, and water skiing.  Shorelines in the area are lined with beaches.  Popular areas include the nearby Indiana Dunes and National Lakeshore and Rogers-Lakewood Park in Valparaiso.  Boating is also enjoyed at Lake Maxinkuckee, Bass Lake, and Lake Schaeffer among others.  Shorewood Forest, located on the city's west side, is a lakeside community with many large estate-style waterfront properties.  Home owners in Shorewood can waterski, fish and swim from their backyard.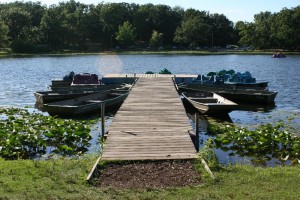 The plentiful moisture supports the greening of fairways and greens, creating some wonderful golfing in the area.  The City of Valparaiso offers public golfing at Forest Park Golf Course and Creekside Golf Course, the latter of which also serves as an official youth and adult training center.  Aberdeen offers links-style golf on the near south side of Valpo, and the northside offers the tradition of the Valparaiso Country Club. 
So while lake effect snow may create an inconvenience at times with heavy snow on local roads, it also brings recreational fun and replenishing moisture that jump-starts the spring growing season and turns the fields and forests green.